Selasa, 21 Oktober 2014
& nbsp;
It's March 14 and I have one thing to say - & nbsp;I remembered Pi Day! Every year I completely forget about Pi Day, honestly, I forget every food holiday except Thanksgiving. But this year I remembered because I had to bake a pie for a special event I was attending, so I made sure to take at least one picture.
For those of you who still have no idea what I'm talking about, pi & nbsp;is a Greek letter that stands for the ratio of the circumference of a circle to its diameter. It starts with 3.14 (hence March 14) & nbsp;and then continues infinitely without repeating. Anyway, enough about math, I can't stand math. Now back to pie not pi. This pie was made for an event that I'm attending, an auction to raise money for literacy awareness. The pie has not been baked yet because the event will be held on 3.15, hence, why you see the pie in a aluminum pie plate. It will be given away to a lucky bidder. & nbsp;I'm hoping this pie taste good because it sure does look good. And I hope it gets a lot of bids to raise money. I used frozen peaches and cherries because obviously they are not in season yet but I'm pretty certain, this pie tastes outta this world. Maybe the winning bidder will let me taste a slice?
Peach Cherry PieIngredients for the Pie
Yield: 1 pie serves 12
For the pie filling:
3 cups peaches (sliced)
2 cups cherries (stemmed, pitted, and cut in half)
3/4 - 1 cup sugar
3 Tbsp flour
1 Tbsp lemon juice
1/8 tsp salt
For the pie dough:
2 1/2 cups AP flour
1 tablespoon sugar
1 teaspoon salt
1 cup (2 sticks) & nbsp;unsalted butter, cold and cut into cubes
1/2 cup buttermilk, cold
1-2 tablespoons vodka or water, cold
Directions:
Combine the flour, sugar, and salt in a bowl. Add the cubed butter and toss to coat. Dump the mixture out onto a clean surface and use a rolling pin to roll the butter into thin sheets, combining it with the flour. Use a bench scraper (you could improvise if you don't have one) & nbsp;to scrape the rolling pin and to bring the mixture back into a pile as necessary. Continue until all of the butter is incorporated into the flour. Mixture will be very flaky. Return mixture to the bowl and place in the freezer for 15 minutes to chill the butter.
Remove from freezer and add the buttermilk. Use a spoon and then your hands to stir the mixture until it comes together into a ball. If mixture is too dry, add the water or vodka a tablespoon at a time. Divide the dough in two and flatten into disks. Wrap each disk in plastic wrap and chill in the fridge for at least & nbsp;one hour.
When ready to roll out, let the dough rest at room temperature for five minutes. On a lightly floured surface, use a rolling pin to roll out the dough into a rough 13 inch circle. Dough should be about 1/4 inch thick. Transfer dough to pie plate. Fill pie with desired filling
(filling below).
& nbsp;Repeat with the second disk of dough. Cut dough into strips & nbsp;and make a lattice over the filling. Brush with egg wash but only the lattice and crust portions of & nbsp;the dough, not the filling.
Directions for the pie filling:
Preheat oven to 350 degrees. Combine the peaches and cherries with sugar, flour, lemon juice, and salt. Pour pie filling into prepared pie & nbsp;crust
(see above).
& nbsp;Place on foil-lined baking sheet in lower third of oven. & nbsp; Bake until fruit bubbles and crust browns, about 1 1/2 hours. If topping begins to brown too quickly, tent with foil. Let cool 6 hours.
Everyone I know loves chocolate chip cookies. Of course, I prefer oatmeal raisin cookies. They are my absolute favorite cookies with tons of raisins! Now, back to these delicous cookies. I saw the recipe in my Cook's Illustrated magazette, yes, I said magazette. It's my opinion that C.I. is a cross between a magazine and a booklet. Anyway, you know these cookies have to be delicious and one of the ingredients incorporated into the recipe is brown butter. How can you go wrong with brown butter? & nbsp;Cooks Illustrated takes a portion of the butter in this recipe and browns it to enhance the depth of flavor in their cookie. It works. They also amp up the flavor by using
dark brown sugar
.
Cook's Illustrated Perfect Chocolate Chip CookiesIngredients:
1¾ cups unbleached all-purpose flour
½ teaspoon baking soda
14 tablespoons (1¾ sticks) unsalted butter
½ cup granulated sugar
¾ cup packed dark brown sugar
1 teaspoon table salt
2 teaspoons vanilla extract
1 large egg
1 large egg yolk
1¼ cups semisweet chocolate chips or chunks
¾ cup chopped pecans or walnuts, toasted (optional)
Preparation:
Adjust oven rack to middle position and heat oven to 375 degrees. Line 2 large baking sheets with parchment paper. Whisk flour and baking soda together in medium bowl; set aside.
Heat & nbsp;ten tablespoons butter in 10-inch skillet over medium-high heat until melted, about 2 minutes. Continue cooking, swirling pan constantly until butter is dark golden brown and has nutty aroma, 1 to 3 minutes. Remove skillet from heat and, using heatproof spatula, transfer browned butter to large heatproof bowl.
& nbsp;Stir remaining & nbsp;four tablespoons butter into hot butter until completely melted. & nbsp;Add both sugars, salt and vanilla to bowl with butter and whisk until fully incorporated. Add egg and yolk and whisk until mixture is smooth with no sugar lumps remaining, about & nbsp;thirty seconds. Let mixture stand for & nbsp;three minutes, then whish for & nbsp;thirty seconds. Repeat process of resting and whisking & nbsp;two more times until mixture is thick and smooth. Using rubber spatula or wooden spoon, stir in flour mixture until just combined, about & nbsp;one minute. Stir in chocolate chips and nuts (if using, I did not), giving dough a final stir. Arrange cookie batter & nbsp;two inches apart on prepared baking sheets.
Bake cookies 1 tray at a time until cookies are golden brown and still puffy, and edges have begun to set but centers are still soft, 10-14 minutes, rotating baking sheet halfway through baking. Transfer baking sheet to wire rack; cool cookies completely before serving. Serve with a cold glass of milk!
Senin, 20 Oktober 2014
Every month I scoured the blogosphere looking for what I think are the best recipes for the month. I'm a visual person, so if its appealing to my eyes and screams try me, then its a good choice. November is a month to give thanks and appreciate what you have. I think every month is a good time to give thanks and pay it forward. & nbsp;We don't get to where we are in life by ourselves. Family is important as is having friends and if they love you and support you even when you make silly choices then everything else will fall into place. & nbsp; I want to wish all my & nbsp;blogosphere friends a Happy Thanksgiving. May & nbsp;you find yourself surrounded by family and friends and feel their warmth and love always. The holidays were meant to be shared. & nbsp;
November is a great month of food holidays. Peanut butter month, raisin bread month, we have doughnut day, cake day and mousse day. & nbsp; I've rounded up some beautiful recipes and photos by fellow food bloggers to share with you all. Enjoy!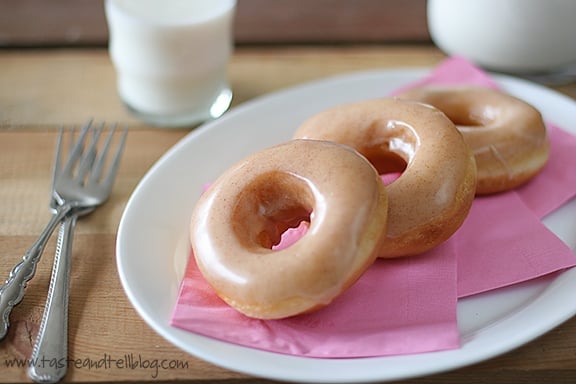 Cinnamon glazed doughnuts
Doesn't looking at these doughnuts by blogger
Taste and Tell
& nbsp;get you in the mood? To bake doughnuts! & nbsp; Look at how soft they look. It is said that a picture is worth a thousand words, is this picture talking or what? & nbsp; Homemade doughnuts taste very & nbsp;fresh, almost silky in texture, light. Make this for breakfast over the weekend and enjoy with a cup of coffee or your beverage of choice.
Vanilla cupcakes with lemon curd filling and lemon BC frosting
November 10th is National Vanilla cupcake day! Be still my heart for cupcakes are my & nbsp;passion These cupcakes by
Live Love Pasta
& nbsp;blogger are definitely on my to bake list. & nbsp; If you look at the frosting you can see vanilla bean specks and the taste of lemon curd..YUM!!!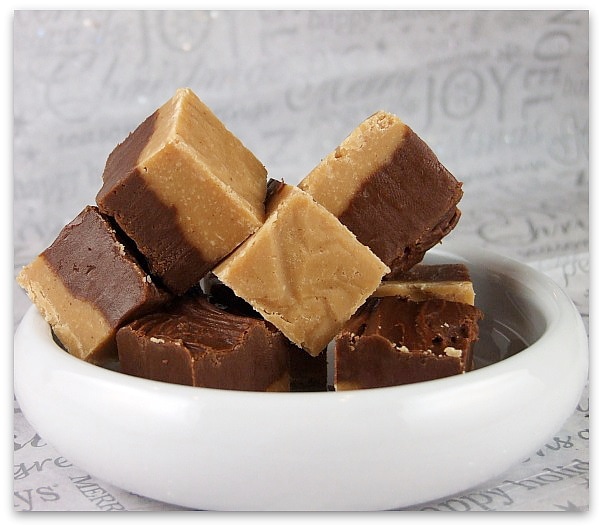 Peanut butter fudge
In my home, we do not make any dishes that contain peanut butter or tree nuts because my daughter Gabi is anaphylatic to these ingredients. But that doesn't mean I can't enjoy peanut butter outside of my home when I'm away from my little girl. & nbsp; Look at these peanut butter fudge candies, how could I resist one or two or three? The two flavor combo is delicious and thanks to
Recipe Girl
you can make them at home for your family, after all November 20th is peanut butter fudge day!
Mango Yogurt Parfait
I love parfaits! I like that I can just grab a glass or cup outta the fridge, take a spoon and start eating without mess or fuss. November 25th is Parfait day and these from blogger
4th Sense Cooking
are exactly what I would like to eat. & nbsp;Besides, anything that includes mango and yogurt as ingredients is like taking a vacation to an island paradise, a healthy one, sorta!!
Fraisier-Strawberry Bavarian Cake
One look at this Fraisier Strawberry bavarian cake and you know & nbsp;you're going to experience something akin to nirvana. Seriously!! & nbsp; Look at it, cream, sponge, strawberries, what's not to like. November 26 is Cake day and November 27 is Bavarian day so I combined the two by featuring this awesome photo and delicious recipe. Classic dessert from a great blogger,
Berry Lovely
What better dessert to make to accompany your Thanksgiving day meal? Pumpkin mousse is celebrated on November 30th but why wait? Give your guests other options besides pumpkin pie or sweet potato pie (both my favs) with this creamy and velvety pumpkin mousse. The decadent dessert comes from
Spoon Fork Bacon
blogger. One of my favorite bloggers. I think I'm addicted to anything with the word bacon in it. We might even name our future puppy Bacon! Just saying.
And the finale to our November favorites roundup, is this delicous homemade raisin bread from blogger
Delishhh
. & nbsp; Yup, this bread sure looks delishhhcious! & nbsp; Especially when you bake it at home and the aroma of cinnamon hits the air and you drizzle maple syrup all over it with a dollop of butter or cream cheese. Or you eat it plain with a cup of Chai latte.
If you ask me which is my favorite pie, my answer is always Apple. I love, love apple pie. I recently told my husband that I could sit down with a glass of milk and polish off an entire pie by myself if its apple. & nbsp; The sad truth is that I've never baked my own pie. I don't even own a pie plate so I went to the dollar store and bought one of those cheapy dollar aluminum pie plates to bake my pie in. Now, I think I will invest in a pie plate. & nbsp; I think the problem is that I'm intimidated by making the pastry dough but looking around at all my food blogging friends, I felt encouraged to make my own pie for the Fourth of July. And I did just that. It was pretty easy, the hardest part was actually waiting for the pie to cool down.
Apple Pie
Yields: & nbsp;1 9 inch pie
Pie crust
2 1/2 cups all-purpose flour
1/4 teaspoon fine salt
3 tablespoons granulated white sugar
1/4 cup vegetable shortening, cold
12 tablespoons butter, cold and cubed
1/4 cup to 1/2 cup ice water
Directions:
In a large mixing bowl, sift together the flour, salt and sugar. Add the shortening and break it up with your hands as you start to coat it all up with the flour. Add the cold butter cubes and work it into the flour with your hands or a pastry cutter. Work it quickly, so the butter doesn't get too soft, until the mixture is crumbly, like very coarse cornmeal. Add the ice water, a little at a time, until the mixture comes together forming a dough. Bring the dough together into a ball.
Divide the dough in half and flatten it slightly to form a disk shape. Wrap each disk in plastic and chill in the refrigerator for about 30 minutes. On a floured surface roll each disk out into a 10 to 11-inch circle to make a 9-inch pie. This was actually not that easy to do!!
Apple Pie filling:
3/4 cup light brown sugar
1/4 cup all-purpose flour
3/4 teaspoon ground cinnamon, plus more for sprinkling
Freshly ground nutmeg, to taste
7 medium apples, peeled, cored and thinly sliced (I used Pink Lady apples)
1 lemon, zested and juiced
3 tablespoons butter, diced
Directions:
Preheat oven to 350 degrees F.
Mix together the brown sugar, flour, cinnamon, and nutmeg in a small bowl. In another bowl, sprinkle apples with the juice of 1 lemon and toss. Stir in the sugar mixture to evenly coat the apples.
Set aside. Roll out chilled dough into 2 circles and use 1 round to line a 9-inch pie pan. Chill the other round. Pour the apple and sugar mixture into the pie pan lined with dough. Dot with the cubed butter. Take your second pie crust round and lay it & nbsp;over & nbsp;the apple filling. Cut four slits on the top crust to allow for steam to escape through.
Trim the overhanging dough and crimp edges. & nbsp; I had extra pie crust left over, so I used a flower shaped cookie cutter and made little flower garnishes. Bake pie for & nbsp;35 -45 minutes or until edges are golden brown. Let rest 20 minutes before slicing. Serve with vanilla ice cream or not.
Sources: & nbsp; Recipe slightly adapted from Paula Deen, the queen of pies!!!!!!!!